Todi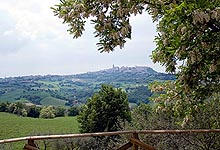 Located between the two Umbrian provinces of Perugia and Terni, the Todi area offers to its tourists a relaxing break amongst medieval villages and cities of art. The land of Saint Francis of Assisi also offers spiritual itineraries as well as wine and food routes discovering Umbrian olive oil, wine, truffle and Norcia products.
This part of the world seems almost bypassed by modern civilisation retaining a warm and old fashioned charm. The region of Umbria, preserves a taste for the beautiful and ancient, the very essence of its culture.
City of art and culture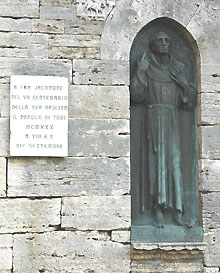 Enclosed within medieval walls, Todi is rich in Etruscan, Roman, Gothic, Renaissance and Baroque art. Dominating the top of a hill, Todi has a distinctive silhouette enhanced by the church of San Fortunato's bell tower with its bold and inspiring architecture. A wonderful place to experience a 360 degrees view of the town and surroundings. The tomb of Jacopone of Todi, also known as "God's jester" (giullare di Dio) and prosecutor of Dante Alighieri, lies in the crypt. It is thanks to Jacopone that the name of Todi has become internationally known.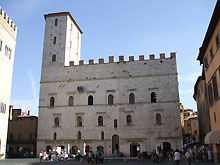 The Civic Museum exhibits a rich collection of coins, ceramics and Etruscan and Roman objects. Other points of interest include: the Church of Santa Maria della Consolazione, designed by Bramante, the Cathedral, the Church of San Ilario, the Scarabecco Fountains, the Roman Forum, the Roman Niches and the Roman Reservoirs under the medieval square. Around the Piazza del Popolo, one of the most beautiful squares in Italy, there are many important medieval buildings, such as the Palazzo dei Priori (Priors' Palace), the Palazzo del Popolo (People's Palace) and the Palazzo del Capitano del Popolo (Captain's Palace)..
Craft and antique trade
Around Easter time, Todi hosts the Italian Antique Exhibition (Rassegna Antiquaria d'Italia). The exhibition takes place in the Vignola's Palace and exhibits collections of the most famous names of the Italian antique trade.
Along the streets of Todi, small old fashioned craft shops can be found, where the traditional method of working gold has been passed down from the Etruscan.
Sports and excursions
Walks and mountain bike excursions are available near the Agriturismo.
Nearby there are two stables, tennis courts, clay-pigeon shooting, a rafting and kayak centre (near the Marmore Waterfalls) and a small airfield, where flights can be arranged, for those wishing to see Umbria from the sky.